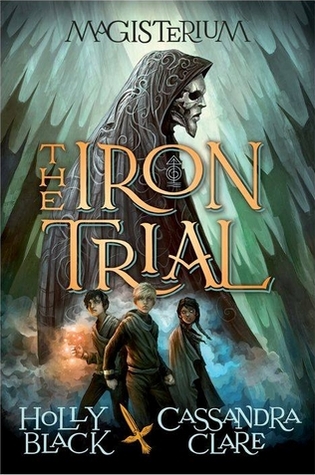 The Magisterium awaits . . .
Most people would do anything to get into the Magisterium and pass the Iron Trial. Not Callum Hunt. Call has been told his whole life that he should never trust a magician. And so he tries his best to do his worst – but fails at failing. Now he must enter the Magisterium. It's a place that's both sensational and sinister. And Call realizes it has dark ties to his past and a twisty path to his future.
The Iron Trial is just the beginning. Call's biggest test is still to come . . .
REVIEW:
I will start this review by saying that I don't agree with the people that say that this book is like Harry Potter, or that this series kinda just copy the idea and throws in it just other characters. Yeah, there's a magic school, yeah, there's a special guy, BUT here the coppying stops. And let me explain why.
The whole magic system is different, the school and the rules are different, even the tests, the lessons, the background, everything. And I would like that when a new book or series appears the readers stop saying "oh, is like that" or "ah, is nothing original". How do you know? Just because cotains a few common elements? Then keeping that in mind I could say that all the dystopia series are the same, just one story, written by gazillion authors, with different characters and names. Is that right? I don't think so. So, stop labeling a book if you haven't read it, because is no right. And if you don't like it, then don't read it, who cares?
Ok, now that I said what was bothering me, let's go back to our story. To be really honest I enjoyed this book more than I was expecting. Because I knew that it was middlegrade. But it was so good, full of action and suspense and beautiful descriptions, and so many feelings and twists and turns. I think that everyone can read this, despite his age, because is a well written book, with a new approach on magic. It's not like Harry Potter and the whole system of the school is different, as I was saying. I didn't felt all those similarities that people where talking about and I was glad that the book doesn't center around just one character. No, we got to know more about Call and Tamara and Aaron, an their colleagues and the teachers.
I would keep saying again and again that you should read this book, because it's amazing, fun, gripping, full of action and suspense. There are happening so many things that I didn't felt that it was the first book. It wasn't like other first books when you get bored half way through, because informations and world building intertwine with action and challanges and so much stuff. I really recommend you reading this even if you read or not Harry Potter. And it doesn't matter that you like or not middlegrade because it doesn't feel like one, you could name it YA too. So, keep your eyes on this and when comes out buy it, and read it.
5/5
Thanks to NetGalley for offering me the opportunity to read it : )